FREE SHIPPING ABOVE RM60* | FREE SHIPPING FOR BUNDLES COLLECTION* | WE SHIP TO SINGAPORE NOW!
I have bought many times, love the softness and thinness
I rate 5 stars
I have bought many times, love the softness and thinness of the pad, it won't cause itchiness, and I like the packaging, won't feel awkward when taking out from bag.
Chloe
09-20-2023
paling best kulit tak rasa gatal
Sangat selesa. Rasa macam tak pakai apa2 sebab nipis. Tak bocor dan paling best kulit tak rasa gatal. Terima kasih menghasilkan produk berkualiti ini.
suhailahhamid85
09-05-2023
Comfortable and absorption is good
Comfortable and absorption is good. Love the packaging
Arzoo
09-02-2023
I never thought that a pad could change your lifestyle just like
Oh my god! Where do I start?
Well, in all honesty, I'm really glad that I happened to come across your Instagram ad. Seriously, I never thought that a pad could change your lifestyle just like that. It has made a lot of changes for me personally in terms of comfort and safety.
It's really comfortable to wear, as though I'm not wearing a pad. That's how good it is. Also, it's only made from pure cotton and has no chemical properties like those you buy in stores.
I'll never stop purchasing Kefi, for sure. I'm so happy that I finally found a pad brand that is safe to use and helps our environment as well.
Again, thanks to the Kefi team for making this happen. Please never stop making pads like this, because I am never going to stop supporting you guys. Thank you! ♥️????☺️
Shasmitha
08-31-2023
包装不会觉得尴尬,而且吸收力好!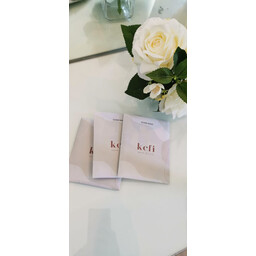 喜欢它的包装,方便放进包包里面,就算不小心跌了出来都不会觉得尴尬。喜欢它的轻薄度,而且吸收力好!
Ckpoon
08-22-2023
Doesn't cause itchiness or irritation
Kefi pad is comfortable and doesn't cause you any itchiness or irritation
Lily
07-27-2023
轻薄可是吸收力方面特别强
大力推荐这款卫生棉,轻薄可是吸收力方面特别强。重点是月经期间用了好像没用这样非常舒服.我是特别不喜欢有些牌子很厚用了之后真的感觉很厚重而且又热????
Apple Kuek
06-26-2023
Organic product
I LOVEE THIS BRAND!! I love how everything is so organic and sanitary. I recommended this to my family and friends too!
Kyle Leeya Ja'afar
06-25-2023
my best companion
No more worries having Kefi Sanitary Pad as my best companion when I needed them most during my heavy menstrual. It is certified 100% organic cotton and breathable. Makes my day feeling good fresh.
Pooiyee
06-25-2023
Selesa
Saya telah mencubanya buat kali pertama,sangat selesa dan mudah dibawa .yang paling penting apabila saya memakai sepanjang hari tidak berbau .I love it
Iraaa
06-25-2023
my monthly essential
Comfiest sanitary pad I've ever had. Undeniable Kefi had became my only choice for my every month use. Love it!
Foong
06-25-2023
Love the packaging
I love it because it is 100% organic. So comfortable to wear. Love the packaging. Highly recommended
Yasmine Yusoff
06-25-2023
Reduce waste
Thank you Kefi for the sweet packaging design so that I don't have to feel shy again when taking my pads out from my bag !! Loving their material and the anti-leakage design - don't have to worry back stain anymore. Their individual sachet allows us to reuse the envelope for disposal - super smart and helps to reduce waste ♻️
Mabel
06-25-2023
超薄超舒服
很舒服超薄的材质!需要替换的时候有包装可疑包裹用过的的卫生棉,超级卫生!小小的一片带出去好方便!
kennix
06-25-2023
Thin but absorption is superb
Very thin but absorption is superb! I totally forgotten that I was on my period and wearing a pad!Love how each pad comes in individual pretty paper envelopes to put the used pad before disposing. No more awkward moents when changing pads in office or when disposing pads at home.
See Yeng
06-25-2023
Best Sanitary Pad ever !!
The Best Sanitary Pad ever !! Really love how these pads are so comfortable to wear anywhere anytime !! The packaging is so cute too like I can bring it anywhere <3 I love the design . gonna purchase em more in the future!
Intan Shafiqa
06-25-2023
Convenient
So convenient for the packaging that can reuse to wrap it to throw, and so comfortable to wear it overnight.
Benietta Christie
06-25-2023
No more leakage!
Seriously loving it! My period is very heavy flow and each time it will leak with other brands' overnight pads during sleep and stain my bedsheet. But with Kefi overnight pads, it surprises me! It is not only thin & comfy yet extremely absorbent! No more worries for leakage! Thumbs up!!!
Connie Yeoh
06-25-2023
透气很亲肤
每個女人的必需品-衛生棉。我相信很多人和我一样,有时候用到不好用的衛生棉除了私处感到不透氣,悶熱之外,有时候還會瘙癢,紅腫甚至發炎。多尷尬呀‼️所以選擇適合的衛生棉真的很重要。合適的衛生棉不但能讓你舒適的度過姨媽期,还能讓你遠離好多女人疾病。 最近都在用着 Kefi 家的卫生棉,真的很不错! 每一片衛生棉都有獨立的包裝,使用後還能裝進他們信封設計的小袋子裡頭再丟進垃圾筒裡,比起直接丟進垃圾筒裡真的衛生雅觀好多。 還有就是Kefi 衛生棉真的非常薄,就只有區區的0.2cm ,所以如果你像我那样在月經期間都会做運動的人,你不會感覺卡卡地 , 要不然感覺好像包尿布那樣,運動起來都好不舒服呢‼️ 不要看它薄薄的,它的吸收效果真的 非常好,兩側還有防漏構槽能有效的防止突然量大而導致溢漏,要不然在外頭突然血染褲子還是裙子的真的好尷尬。 使用之後,你会对它的親膚程度感到經驗因為真的非常柔軟,而且最重要的是連翅膀位置,長時間下來也不會有摩那種不適的感覺。
Louise Wong
06-25-2023
Gentle & Comfy
Finally found gentle & comfy organic pad. Indeed the much needed tender care to the us!
Lwin
06-25-2023
Thin & Comfortable
This pad is very comfortable to use. Thin and gentle on skin. Highly recommended!
Myjourneykey
06-25-2023
Innovative Design
One special point that amazes me is that its envelop is designed to put with the used pad.
Very convenient to bring along for outdoor.
Jeslyn
06-12-2023
Thin and Light
Very thin and light, so the moment when you wear it, it's very breathable. Just nice for my sensitive skin as this one is made of organic cotton! Very nice and convenient packaging, just nice to fit in my handbags.
Koey Kar Sin
06-12-2023
100% Organic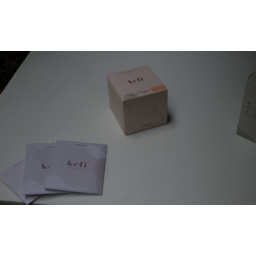 One thing that I always looks for before I buy Sanitary Pad is "Organic"
That's why i choose KEFI Sanitary Pad it's
100% Organic.
The best part is, it's Comes with individual sachets, we can use the envelope to put used pad and throw it, easy for us to bring out .
Feel comfortable when I use KEFI.
Highly recommended!
Fira Dahlan
06-12-2023
Comfortable
I'm doing workout regularly. KEFI make me feel comfortable and feel free. Love it
Janet Kuek
11-30--0001
Testimonials 1 ~ 25 from 25 (1 page's)